6 Expert Advice For Enjoying A Healthy Holiday Season
From Thanksgiving to Halloween and now to Christmas/new year holidays, it's the merry season we all love (well, most do). While this is a season to be jolly, it could also be a season to be wary. Often, accidents, heart attacks, food poisoning, depression, trips to ER, or huge weight gain are rife during this period. These festivities-induced health problems can quickly escalate to serious long term health issues if care is not taken. Hence, we have put together these 6 expert advice for a healthy holiday season, especially for you.
1. Mind What You Eat
To prevent overeating at Christmas, it is best that you eat something before heading out. By doing so, you can resist the temptation to overindulge at parties or family gatherings. Enjoy your favorite treat, but be mindful of the portion. To minimize the risk of food poisoning, don't leave food out all day. Also, don't overindulge in sweets and salty meals especially for people with certain health conditions. Always opt for healthy Christmas snacks e.g. Strawberry Santa, Christmas bliss balls, watermelon Christmas tree, etc. See options for healthy Christmas snacks.
2. Drink Lots of Water
During this season when we overindulge in sugary snack and alcohol drinks, water can come to our rescue. For instance, water prevents possible hangover if you drink too much alcohol. Drinking plenty of water also keeps your metabolism moving and prevent constipation. Regular teas and juices count towards your fluid intake. Keep a jug of water handy to ensure you stay hydrated all day.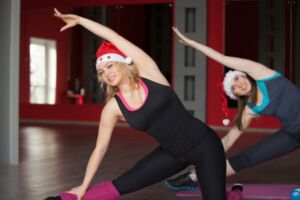 3. Have an Active Holiday
You should still perform your fitness routine whenever possible and if you can't do that, simply walk more or use the stairs! If the holiday is a family affair, then plan outdoor activities where everyone can be involved. Maybe a snowball fight in the backyard, have your kids ride on their bikes or scooter then run alongside them for 15 or 20 minutes. Just sneak in little bouts of exercise throughout the day and stay physically active. Another tip – Dance to your favorite tune, don't be shy to dance at parties as well. More like having fun and burning calories. Also, take advantage of seasonal activities like skating, sledding, hill sprint and so on.
4. Do Something Good for Someone
According to metro.co.uk helping others can have a positive effect on your mental health. If you are spending Christmas alone or not really feeling the Christmas vibes, it's okay. Just have a "me-time", volunteer at a local event, or help someone in need. We bet it will make you feel better. But if that's not the case, you can still do something nice for others this festive season.  Ways to help include: Share warm meal, mow someone's lawn, babysit, pay a bill, open the door, help carry a heavy package, and much more.
5. Mind your Alcohol Intake
Pay attention to the quantity of alcohol you consume; whether wine, beer, cocktail. And from time to time, replace alcohol with fruit juice or water (yes, water). Trying to restrain yourself totally from alcohol may be difficult, so just mind your intake. Feel free to enjoy the treats that you really love, but in small portions. This  tip will also prevent drunk driving which inevitably leads to brawls and accident.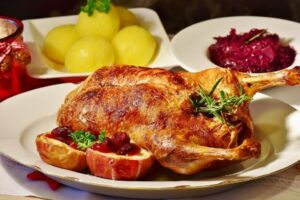 6.  Don't Ignore your Health
Don't overindulge to the detriment of your health. Mind your stressors; read our previous post on relieving stress here. Colds are rife at Christmas. So, minimize your risks by maintaining a healthy immune system (eating fruits, having adequate sleep, and shunning smoking). All of which can help keep cold at bay. And by fueling your body with the right food, you'll be in a better position to combat winter illnesses.
In addition, if you take care of your health over the Christmas period, you will be ready to meet the challenges of the new year heads on. The bottom line is that we want you to have a healthy holiday season and start the new year in good health as well.
Have a happy and healthy holiday season!
Please follow and like us:
Tags: community health center, communty health center mecklenburg nc, fqhc north carolina 28205, health care center, Holiday Season, medical advice, primary health care services